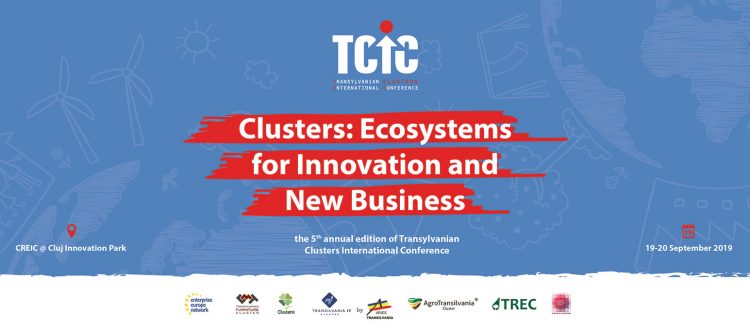 Transylvanian Clusters International Conference. Clusters: Ecosystems for Innovation and New Business
Transylvanian Clusters International Conference (TCIC) is an annual event organized by the Northern Transylvania Clusters Consortium, aiming to support the economic environment and to facilitate the international exchange of knowledge and good practices, providing a cross-sectoral collaboration platform for addressing global challenges.
The 5th Annual Edition of Transylvanian Clusters International Conference (TCIC), which will focus on the benefits that clusters can bring to the worldwide economy will be held in Cluj-Napoca, Romania, between September 18-20, 2019, at CREIC – The Regional Center of Excellence for Creative Industries – a new establishment in town, dedicated entirely to innovation, education and development.
So far, the four previous editions of the conference have gathered over 1200 participants from business, academia, research, public administration, 200 remarkable speakers and provided more than 500 opportunities for connecting entrepreneurs and innovation providers around the world, during its integrated matchmaking  sessions.
As the central theme for this year is "Clusters: Ecosystems for Innovation and New Business" and the conference will continue with the parallel sessions:
Supporting Effective Collaboration. Practical Tools & New Business Approach
Cross-sectoral Collaboration for Digital Transformation
Industry 4.0 in Agriculture: Track Growing Data
Creative Business. Key Challenges in the Industry
REStart Renewable Energy
One of the main focuses of the event will be the matchmaking session organised during the second day of the conference. Through the B2Match platform, the participants have the opportunity to insert their profiles and also their business/projects offers/requests in order to find an appropriate partner. Through the platform the participants can book B2B, C2C, B2C meetings in order to discuss possible cooperation paths:  https://tcic2019.b2match.io.
Cluj-Napoca, the host city, is the heart of Transylvania, the most dinamic Romanian city with a very active business community. The city also has a social demography with 37% of the residents being under 35 years old.
Main organizer: Northern Transylvanian Clusters Consortium
Members of the Consortium: Transilvania IT Cluster / www.transilvaniait.ro  / Transylvania Furniture Cluster / www.transylvanianfurniture.com, AgroTransilvania Cluster / www.agrocluster.ro/en, Transilvania Creative Industries Cluster / http://creativetransilvania.ro, TREC – Transylvania Energy Cluster / www.trec-cluster.ro.
Partners: Cluj-Napoca City Hall, Cluj County Council, Romanian North-West Regional Development Agency, Enterprise Europe Network,   others.
Patronage: Ministry of Economy, Trade and Relations with Business, Romanian Cluster Association – CLUSTERO
For more information, please access the website: http://transylvanianclusters.ro/
Also you can visit Facebook page Event: https://www.facebook.com/pg/clustersconference/community/